MEAT CABBAGE ROLLS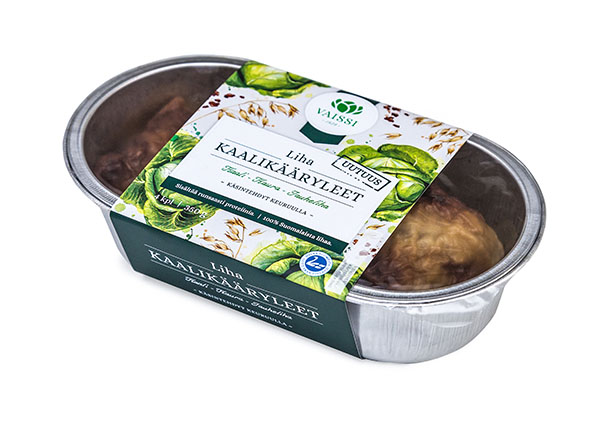 Cabbage rolls filled with meat. Ready cooked, ready to eat.
Ingredients: White cabbage (68%), Finnish beef, Finnish pork, gluten-free wholegrain oats (5%), water, onion, treacle, salt, stock powder (yeast extract, iodised salt, sugar, flavours (meat, umami), maltodextrin (potato), black pepper. Meat content 25%.
Rich in protein. Gluten-free.
Keep refrigerated under +6°C. Expiry date: see front of pack. 350g / 4 rolls.
Heating:
Microwave oven: heat without pack for 3-4 min. Oven (recommended): Remove cardboard band and plastic film. Heat at 175°C for 30-40 min. Hob: Fry on a hot pan for about 10 min.
Nutritional value per 100g
Energy…………………….483kJ (115kcal)
Fat………………………….5.2g
of which saturates…….1.8g
Carbohydrate……………10.6g
of which sugars…………3.3g
Dietary fibre……………..2.2g
Protein……………………..5.8g
Salt…………………………..0.98g